Chetak was a popular Indian-made scooter produced by the Bajaj Auto company. The Chetak is named after Chetak, the legendary horse of Indian warrior Rana Pratap Singh.
On 16 October 2019, Bajaj Auto re-entered the scooter space by unveiling a new electric version of their Chetak scooter under the Urbanite EV sub-brand. The production of the Chetak Electric started on September 25, 2019, at the Chakan plant of Bajaj Auto. It will be launched initially in Pune and Bangalore in January 2020 and be sold through KTM dealerships.
THE TIME IS NOW
The future of mobility is here, offering a connected 2-wheel experience. With its timeless design housing the latest technology, you're assured of an unforgettable ride From the time you start riding Chetak.
GO FURTHERRIDE LONGER
Create memorable moments with Chetak. Simply ride, ride and ride some more on the Chetak. With one full charge, the opportunity for up to 95 km of unforgettable riding awaits.
100% in 5h
25% in 1h
ALWAYS CONNECTED
Access all the information you need in one simple touch. Locate your Chetak scooter, protect it from theft and receive notifications in case of an accident or unauthorized access. Set your music and read helpful riding tips from your connected device.
BATTERY WARRANTY
With 3 years, 50,000 km warranty on the Chetak Lithium-Ion Batteries, the riding is set to keep on going and going.
WATER-RESISTANT
The Chetak is an IP67-rated Vehicle. This means you are assured of the highest levels of durability.
HEADLAMP
The CHETAK features an eye-catching LED headlamp. The daytime running light is distinctively designed in the shape of a horseshoe. The LED headlamp offers superior intensity, range and focus while keeping energy consumption and heating low.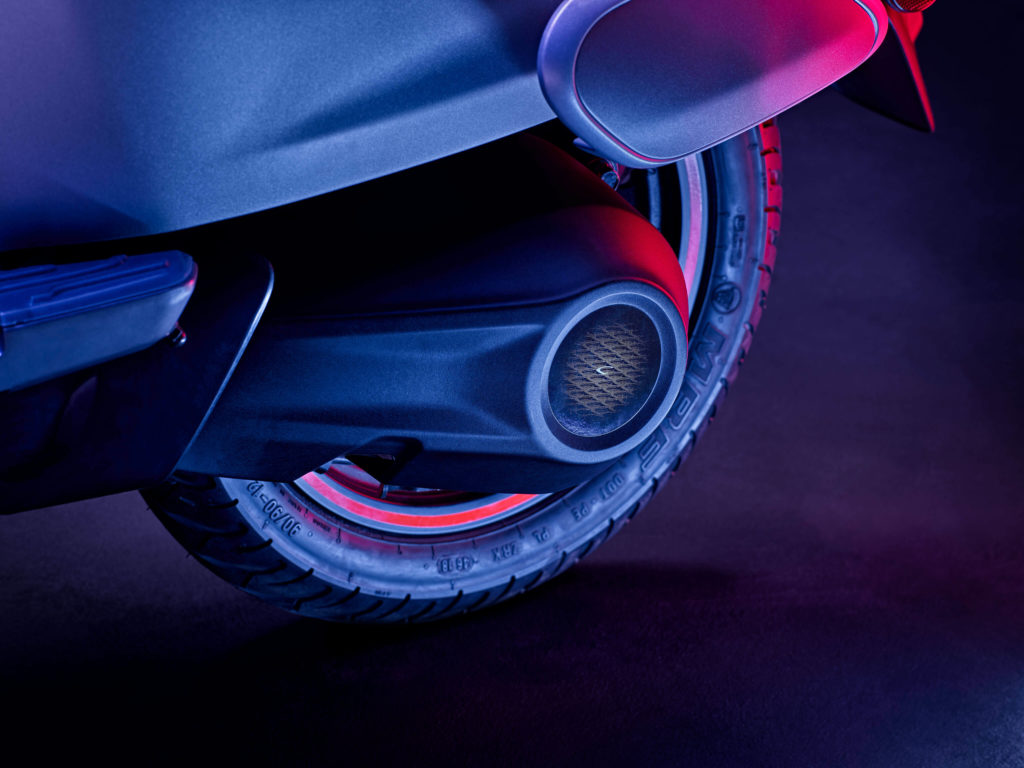 ZERO DOWNTIME
The new normal is 24×7 uptime. A vehicle should be ready when you are. We have made a powertrain that never needs attention from you, the user.
Advanced algorithms with edge computing continuously evolve and optimise everything from throttle response to battery charging to extract maximum life from every electric, mechanical and chemical part of the powertrain.
Plug it, charge it, ride it. That's all. It's really as simple as that.

BRAKES
Braking on a CHETAK actually adds to your GO time. A disk brake on the front and a drum brake on the rear ensure effective braking in all conditions, while an intelligent regenerative braking system converts kinetic energy to electrical energy that can be used to go further.
2.8m
60 – 0km/h
REVERSE GEAR
Getting out of the tight parking spots was never that easy. Chetak has a reverse mode which lets you ride back out of parking with a breeze.
Manufacturer
Bajaj
Production
1972―2006, 2019―Present (electric)
Class
Scooter
Engine
Before 2002, 150 cc two-stroke
2002 – 2005, 150 cc four-stroke
2019 – present, 4 kW electric
Top speed
90 km/hm
Power
7.5 BHP@ 5500 rpm
Torque
10.8 NM @ 3500 rpm
Transmission
1972 – 2005, 4 speed, manual with the shifter in the left-hand grip 2019 –
Present, automatic (electric drive)
Suspension
Swingarm
Brakes
Drum (Rear)
Disc (Front)
Tires
3.50-10
Wheelbase
1230 mm
Dimensions
L: 1770 mm
W: 670 mm
H: 1080mm
The Price and Launch date will be updated later
Read more: Passwords of 5 lakh IoT devices Sold out:Data Breach