BETTER UTILITY THAN A TRUCK WITH MORE PERFORMANCE THAN A SPORTS CAR
EXOSKELETON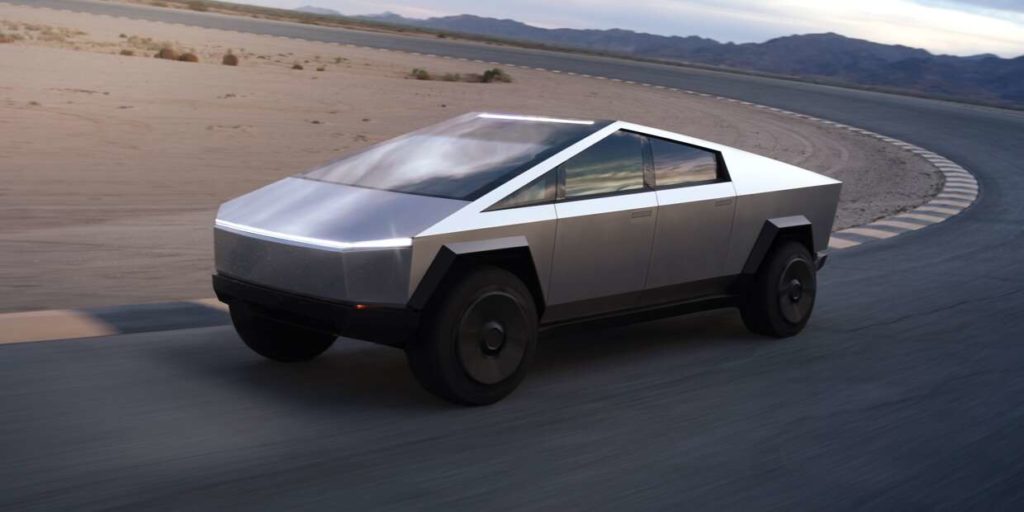 Cybertruck is built with an exterior shell made for ultimate durability and passenger protection. Starting with a nearly impenetrable exoskeleton, every component is designed for superior strength and endurance, from Ultra-Hard 30X Cold-Rolled stainless-steel structural skin to Tesla armour glass.
ULTRA-HARD 30X COLD-ROLLED STAINLESS STEEL
If there was something better, we'd use it. Help eliminate dents, damage and long-term corrosion with a smooth monochrome exoskeleton that puts the shell on the outside of the car and provides you and your passenger's maximum protection.
TESLA ARMOR GLASS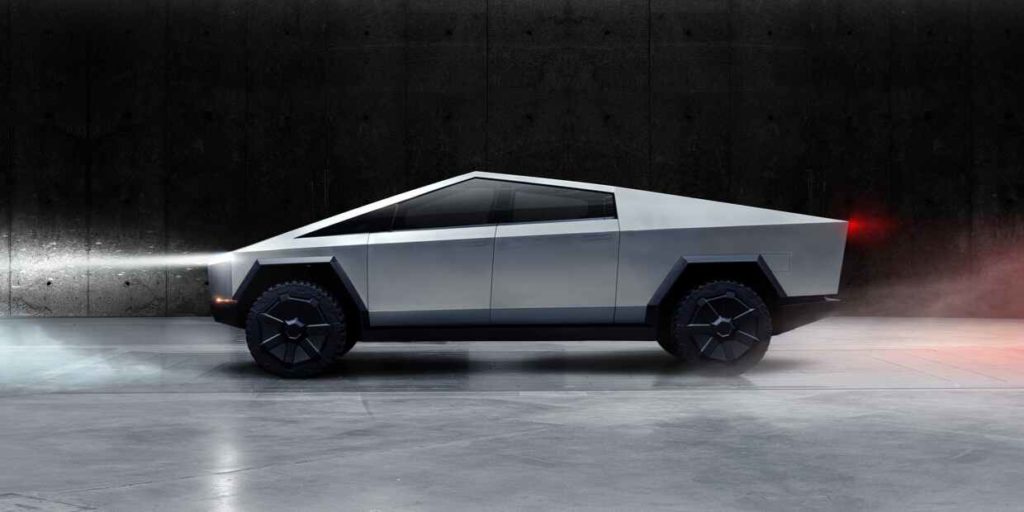 Ultra-strong glass and polymer-layered composite can absorb and redirect impact force for improved performance and damage tolerance.
VERSATILE UTILITY
VAULT-LIKE STORAGE: Space for your toolbox, tire and Cyberquad, with room to spare. Utilize 100 cubic feet of exterior, lockable storage — including the under-bed, frunk and sail pillars.

ADAPTIVE AIR SUSPENSION: Raise and lower suspension four inches in either direction for easy access to Cybertruck or the vault, while self-leveling capabilities adapt to any occasion and assist with every job.

RUGGED STRENGTH: With the ability to pull near-infinite mass and a towing capability of over 14,000 pounds, Cybertruck can perform in almost any extreme situation with ease

FLEXIBLE INTERIOR: Seat six comfortably with additional storage under the second-row seats. Complete with an advanced 17" touchscreen with an all-new customized user interface.

AWESOME ADAPTABILITY: From rugged to refined, Cybertruck is completely adaptable for your needs. Prepare for every experience with a versatile utilitarian design — including on-board power and compressed air.
PERFORMANCE AND EFFICIENCY
| | | | |
| --- | --- | --- | --- |
| Specs | Single motor RWD | Dual motor AWD | Tri-motor AWD |
| 0-60 MPH | <6.5 SECONDS | <4.5 SECONDS | <2.9 SECONDS |
| RANGE | 250+ MILES (EPA EST.) | 300+ MILES (EPA EST.) | 500+ MILES (EPA EST.) |
| DRIVETRAIN | REAR-WHEEL DRIVE | DUAL MOTOR ALL-WHEEL DRIVE | TRI MOTOR ALL-WHEEL DRIVE |
| STORAGE | 100 CU FT | 100 CU FT | 100 CU FT |
| VAULT LENGTH | 6.5 FT | 6.5 FT | 6.5 FT |
| TOWING CAPACITY | 7,500+ LBS | 10,000+ LBS | 14,000+ LBS |
| AUTOPILOT | STANDARD | STANDARD | STANDARD |
| ADAPTIVE AIR SUSPENSION | STANDARD | STANDARD | STANDARD |
| GROUND CLEARANCE | UP TO 16″ | UP TO 16″ | UP TO 16″ |
| APPROACH ANGLE | 35 DEGREES | 35 DEGREES | 35 DEGREES |
| DEPARTURE ANGLE | 28 DEGREES | 28 DEGREES | 28 DEGREES |